Data
UIC will have a climate of diversity and equity in which individual students, faculty, and staff feel welcomed in their identities, valued for their contributions, and feel their identities can be openly expressed wherever they live, work, and study.

|
We must begin by knowing our campus climate as it truly is. UIC will assess the climate experienced by its staff, students, and faculty by means of a periodically reiterated survey. When we identify shortcoming, we will design solutions. Climate surveys will make a special point of considering accessibility issues that impact equal participation in and enjoyment of campus life by all individuals, including those will disabilities.
54 % of freshmen state that diversity was important in their decision to attend UIC.*

52 % of undergraduates are women.

38 % of students are first-generation college students.
36 % of freshmen report a first language other than English.*

60 % of undergraduates are Pell grant eligible.

70 % of undergraduates receive financial aid.**
80 % of students are commuters.

25 % of undergraduates are STEM majors.

40 % of students come from CPS high schools.
72 % of freshman expect opportunities to interact with students from different backgrounds.*

9 % of UIC students are non-traditional (aged 25 and up).

3 % are Out of State students.
Sources
* 2018 Entering Student Survey
UIC Undergraduate Student Enrollment by Race/Ethnicity, Fall 2020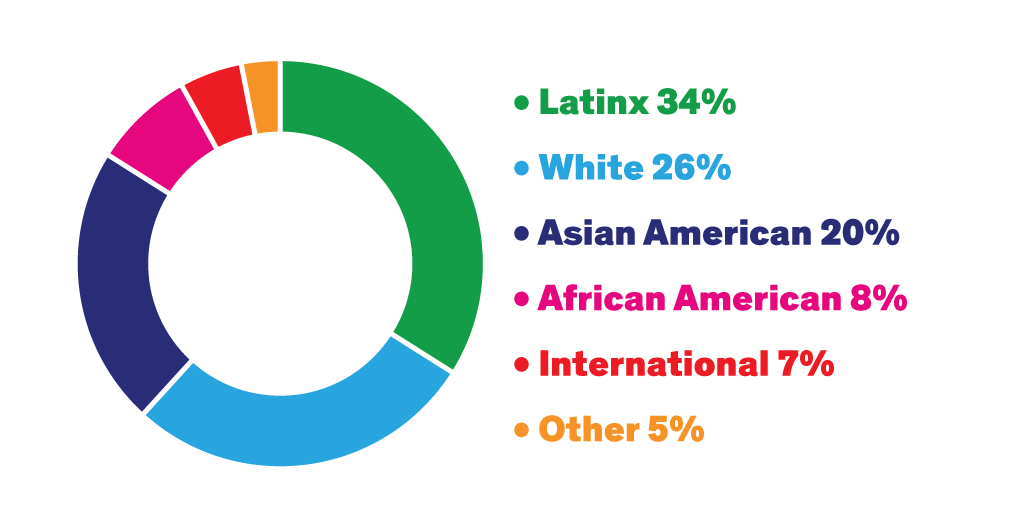 Latinx 34%, White 26%, Asian American 20%, African American 8%, International 7%, Other 5%