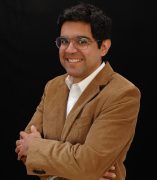 José Villegas
Pharmaceutical Sciences
About
José Villegas earned a BS in Biochemistry from the University of California Santa Barbara, an MA in Chemistry from Brooklyn College, and PhD in Chemistry at the University of Pennsylvania under the supervision of Jeffery Saven. His doctoral dissertation was on the computational design of protein-ligand and protein-protein interactions.
He was awarded a Fulbright Postdoctoral Fellowship and a Zuckerman Postdoctoral Scholarship to travel to Israel and continue his research in the laboratory Emmanuel Levy at the Department of Structural Biology at the Weizmann Institute of Science. There, he has worked to quantify the influence of protein composition on the interactions between proteins using a combination of computational and experimental approaches. He has used statistical analysis of known protein-protein interactions to gain insights into the molecular determinants of protein recognition, selectivity, and binding affinity, and has worked on developing anti-viral and anti-cancer agents based on the induced self-assembly of biological targets.
His goal is to develop an independent research program aimed at designing protein-based drugs that trap disease targets in order to inactive and degrade them. He is particularly interested in pursuing strategies that combat drug resistance brought on by evolutionary adaptation. He aims to use computational design methods to target conserved regions of the genomic material of viruses as a way to overcome their capability to develop drug resistance.
José was born in Los Angeles, California, grew up dividing his time between the United States and Mexico, and graduated from Santa Ana High School in Santa Ana, California. He is fluent in Spanish, and has experience establishing connections with culturally diverse communities from his time performing home visits for the Lead Poisoning Prevention Program in New York City. As the leader of the Association for Cultural Diversity in Chemistry at the University of Pennsylvania, he worked toward increasing the participation of underrepresented groups in science to better reflect the cultural make-up of the country.