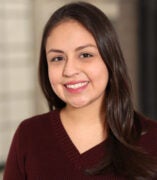 Stephanie Torres
Educational Psychology
About
Stephanie Torres, PhD is a Bridge to Faculty Fellow in the Department of Educational Psychology. Dr. Torres received her Bachelor of Arts degree from DePaul University, majoring in Psychology and Latin American/Latinx Studies. She earned her Master's in Clinical Psychology from Loyola University Chicago in 2016 and her PhD in Clinical Psychology from Loyola in 2019.
She was previously a postdoctoral fellow at the Center for Childhood Resilience at Ann & Robert H. Lurie Children's Hospital of Chicago. Through her work at the Center for Childhood Resilience, Dr. Torres co-facilitated educator trainings on the impact of trauma on immigrant and refugee youth and strategies to build trauma-informed schools. Moreover, she was involved in a research pilot assessing the feasibility and acceptability of a school-based group intervention for immigrant and refugee youth called Supporting Transition Resilience of Newcomer Groups (STRONG) and hopes to continue this collaboration while at UIC. Her clinical work focuses on addressing trauma exposure and she specializes in serving bilingual, Spanish-speaking families.
Her program of research focuses on ecological risk and resilience factors among low-income, Latinx communities, particularly Latinx families impacted by immigration-related stress. She hopes to draw from the resilience and cultural strengths among the Latinx community and create school-based and community-based programs to promote well-being and mental health while utilizing a community-based participatory research (CBPR) approach to begin the process of enacting change. She is also interested in avenues for promoting psychologists' involvement in policy and advocacy efforts.