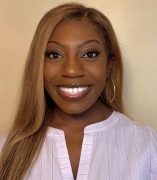 Ashley Shannon
President, UIC Black Law Student Association
About
Ashley Chisum Shannon is currently a 2L student earning her J.D. at University of Illinois Chicago School of Law, where she serves as President of the Black Law Student Association. Ashley has also served as a 1L student representative for the Student Bar Association at UIC Law and as a Chicago Bar Association's Civil Rights Committee member.
She is a 2018 graduate of Illinois State University, where she earned her B.S. in broadcast journalism, with a minor in peace and conflict resolution. As a student, she interned for TV 10 News and YWCA McLean County. In 2016, she became a part of the first Black couple to be crowned Homecoming King and Queen at ISU and served as Student Body Vice President during her senior year. She was also inducted into the Phi Sigma Pi Coed Honors Fraternity, Lambda Pi Eta Coed Honor Society and Alpha Phi Omega Coed Service Fraternity.
In May 2019, she graduated with her Master of Studies in Law from UIUC Law School, after completing a thesis regarding the collateral consequences of probation for local adult felons in Champaign County, IL. Ashley later worked as a Substance Abuse Counselor for West Care Foundation at Sheridan Correctional Center, where she helped inmates through their rehabilitation process prior to parole.
During the summer of 2021, she worked remotely for the Center for Law and Social Justice at Medgar Evers College - CUNY in New York, to research and analyze effective and equitable ways to restore voting rights to disenfranchised minority communities. She also worked at the DuPage County State's Attorney's Office in the Specialty Felony Courts division, where she researched alternatives to incarceration programs for drug users, veterans and mentally ill felons.