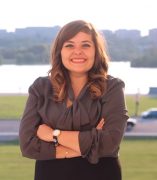 Ivón Padilla-Rodríguez
History
About
Ivón Padilla-Rodríguez is a socio-legal historian of child migration and a scholar-activist. The daughter of formerly undocumented Mexican immigrants, her research in and outside of the academy is rooted in her longstanding commitments to immigrant communities.
She is currently working on a book manuscript that historicizes child-centered mechanisms and consequences of U.S. immigration exclusion. Her work uncovers the origins of undocumented youth labor trafficking, the "school-to-deportation" pipeline, and migrant child detention in the twentieth century. It argues that contests over the rights of child migrants racialized border-crossing Latinx youth and hardened the distinctions between the citizen and the migrant. It also reveals how paternalistic ideas about childhood innocence get weaponized to extend the carceral state's reach, ensnaring migrants of all ages into its expanding dragnet.
Outside of the academy, her writing and research have appeared in The Washington Post, Time, Teen Vogue, and NACLA. She has also authored policy briefs on the migration of children and women for the federal government and non-profits in the U.S. and Mexico.
Dr. Padilla-Rodríguez earned her Ph.D. in History from Columbia University, where her research was supported by a Ford Foundation Fellowship and Harry S. Truman Scholarship.