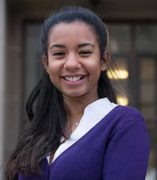 Gabriela Nunez-Mir
Biological Sciences
About
Dr. Gabriela Nunez-Mir is a quantitative ecologist and a third-generation conservationist from the Dominican Republic. Growing up in a Caribbean island with high levels of endemism, Dr. Nunez-Mir has always been very aware of the destructive impacts of invasive species.
Invasive species are one of the major ecological threats in the Anthropocene. Yet, important knowledge gaps remain in our understanding of patterns and processes of invasion, particularly at large spatiotemporal scales. Dr. Nunez-Mir's research program aims to help bridge these knowledge gaps by obtaining new insights to highly-debated topics in invasion ecology through macroecological investigations of the processes shaping biological invasions. Being a relatively new sub-field, she regularly gets inspiration from other disciplines for innovative statistical techniques and methodologies that could help uncover the wealth of knowledge held within large bodies of ecological data. The techniques she has borrowed from various fields, ranging from medical research to predictive finance, have allowed Dr. Nunez-Mir to produce findings that are uniquely useful in that they are broadly applicable across geographic and taxonomic contexts.
Prior to joining UIC and the Bridge to the Faculty Program, Dr. Nunez-Mir was a Postdoctoral Fellow at Virginia Commonwealth University, where she worked on assessing macroscale patterns of a high-profile invasive insect. In 2018, she obtained her Ph.D. from the Department of Forestry and Natural Resources at Purdue University, where she was part of the Natural Resources Spatial Analysis Lab under the advisement of Dr. Songlin Fei. She obtained her bachelor degrees in Biology and Biotechnology (B.S.) and Environmental Studies (B.A.) from Worcester Polytechnic Institute in 2013.