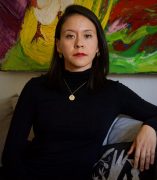 Maria Eugenia López-Garcia
Museum and Exhibition Studies
About
Maria Eugenia López-Garcia comes to the University of Illinois at Chicago after a Chancellor's Postdoctoral Fellowship in the Department of Latina/Latino Studies at the University of Illinois Urbana-Champaign. She earned her PhD in American Studies from the University of New Mexico.
Maria's research examines contemporary processes of racialization of migrant and immigrant Mexican and Filipina domestic workers in the United States, and the response to such processes encoded in the cultural production and alternative epistemologies that their lives and labor inspire. These epistemologies and cultural forms/practices make legible the heterogeneity of subjectivities and social experiences of migrant and immigrant domestic workers, and the multiple forms of violence they endure. In analyzing the cultural politics of domestic work, Maria's research moves across the interstices of performance studies, visual cultural analysis, critical ethnic studies, women of color feminisms, and queer of color critique.
As a public scholar, community organizer, and cultural worker, Maria has worked in non-profit organizations such as the Border Agricultural Farmworker Center and La Mujer Obrera in El Paso, Texas and has collaborated in anti-gentrification movements and grassroots public history initiatives to preserve historic Latino and Chicano neighborhoods' in this border region. She has also been an active member of music and feminist art collectives in El Paso, Texas, and Albuquerque, New Mexico, holding participatory workshops with high-school students on muralism, Son Jarocho (musical genre from Veracruz, Mexico), and oral history. Maria has taught courses in the departments of American Studies, Women's Studies, and Chicana and Chicano Studies at the University of New Mexico and in the department of Latina/o Studies at UIUC. She has an MA in History and a BA in Anthropology from the University of Texas at El Paso.