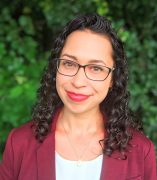 Danielle Beaujon
Criminology, Law & Justice
About
Danielle Beaujon received her PhD with distinction from New York University's joint program in History and French Studies in 2021. She previously earned a dual B.A. in Honors History and French & European Studies at Vanderbilt University in 2015. Danielle is a historian with broad research interests in policing, race, and power in a global context.
Danielle's current research examines the intimate and oppositional relationship of police officers and North Africans in a connected Franco-Mediterranean world. Her dissertation, "Controlling the Casbah: Policing North Africans in Marseille and Algiers, 1920-1950," interrogates the quotidian interactions between the police and North Africans in these two Mediterranean port cities. The project explores how the racialized policing of North Africans in Marseille and Algiers is built not just on visual codes of race, but on the way that police practice mapped ideas of race onto the space of the city.
Danielle's research has received support from the American Institute for Maghreb Studies Short-Term Research Grant, the Robert Holmes Award for African Scholarship, the Michel Beaujor Doctoral Research Fellowship, the Remarque Institute-École Normale Supérieure Doctoral Fellowship, and the US Department of Education's Foreign Language and Areas Studies Summer Fellowship. Danielle's first article, "Policing Colonial Migrants: The Brigade Nord-Africaine in Paris, 1923-1944," was published in French Historical Studies and received the Coordinating Council for Women in History's Nupur Chaudhuri Prize, recognizing the best article by a first-time author. More recently, her article, "Purely Artistic': Police Power and Popular Culture in Colonial Algerian Theater," appeared in Historical Reflections/Réflexions Historiques.