UIC Neighborhood Centers Community Partner Spotlight: Art West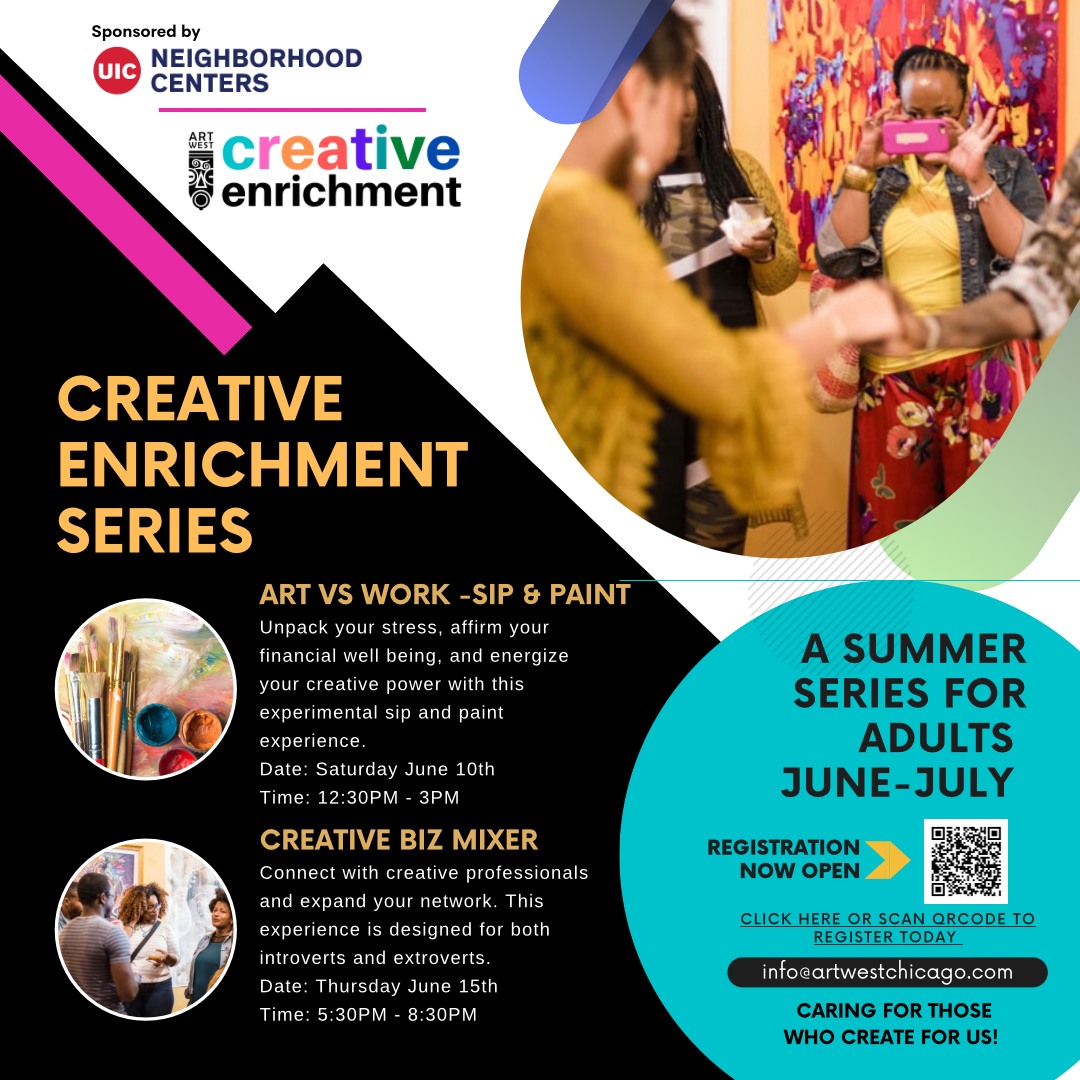 This summer, the UIC Office of Community Collaboration (OCC) and the Office of Diversity, Equity & Engagement (ODEE) are partnering with community organization Art West to create a summer enrichment series serving North Lawndale residents. This programming seeks to offer opportunities for adults, freelance artists and creative professionals to connect and broaden the reach of their voices and platforms while engaging with the UIC Neighborhood Centers in their place-based approach to improving racial equity in their local communities.
Art West is best known for producing and curating art, special events, community engagement strategies, activation programming and consulting. Their mission is to rebrand the Westside of Chicago through arts and culture while strengthening their creative network to increase equitable opportunities through collaborative action across the city, according to founding artist and Lawndale resident Alexie Young, who also curated the MLK Fair Housing exhibit at the UIC Lawndale Neighborhood/MLK Exhibit Center.
Young stated: "The OCC Creative Enrichment Summer Series is an opportunity to curate an experience designed by creative people for creative professionals. This series will maximize the visibility of North Lawndale and support essential connections to increase equitable momentum within our community by inviting artists and cultural practitioners to build with one another."
The purpose of the series is to support and strengthen the ecosystem of arts and culture on Chicago's Westside by curating spaces and activities for adults that result in quality connections and networking opportunities, while furthering the mission of the OCC and enhancing the visibility of the UIC Neighborhood Centers project. It is a joint partnership between the neighborhood centers, which are supplying the space, and Art West, which is designing and producing the free summer programming.
"We are thrilled to collaborate with Art West in offering innovative arts programming for adult students and residents," reiterated Keith Lewis, senior director of community collaboration in the ODEE. "This partnership reflects our values and commitment of providing community-driven activations that contribute to the vibrancy of the neighborhood."
The OCC Creative Enrichment Summer Series will feature these programs, that are free and open to the public, at the UIC Lawndale Neighborhood/MLK Exhibit Center (1558 S. Hamlin Avenue):
Coping with Capitalism and Balancing Your Passion: A Conversational Arts & Crafts Session
Saturday, June 10
1pm – 3pm
Participants can look forward to a professional art therapist curating a sip and paint, crafting and coloring session while hearing from seasoned panelists about what it takes to be a modern working artist in today's cultural climate.
Creative Business Mixer & Networking (Show and Tell Your Brand)
Thursday, June 15
5:30pm – 8:30pm
Remember show and tell? We're bringing it back! This time creatives across all disciplines can show and tell their brand and area of impact to attendees. Participants can look forward to a showcase and ample time to connect along with food and libations.
Art Collectors' Dinner Party
Sunday, July 23
3pm – 5pm
Where are the art collectors at? Are you interested in being an art collector and personally growing the value of Chicago's creative consciousness? Chronicling and maintaining the integrity of the narrative? This is a great opportunity to learn and share how art collectors do it and why it's important. Participants can look forward to a swanky affair including food and libations.
To register for the OCC Creative Enrichment Summer Series, please visit: https://go.uic.edu/ArtWestSummerSeries
To learn more about founder Alexie Young and Art West, please visit: https://www.artwestchicago.com