UIC earns 'Seal of Excelencia' for commitment to Latino students' success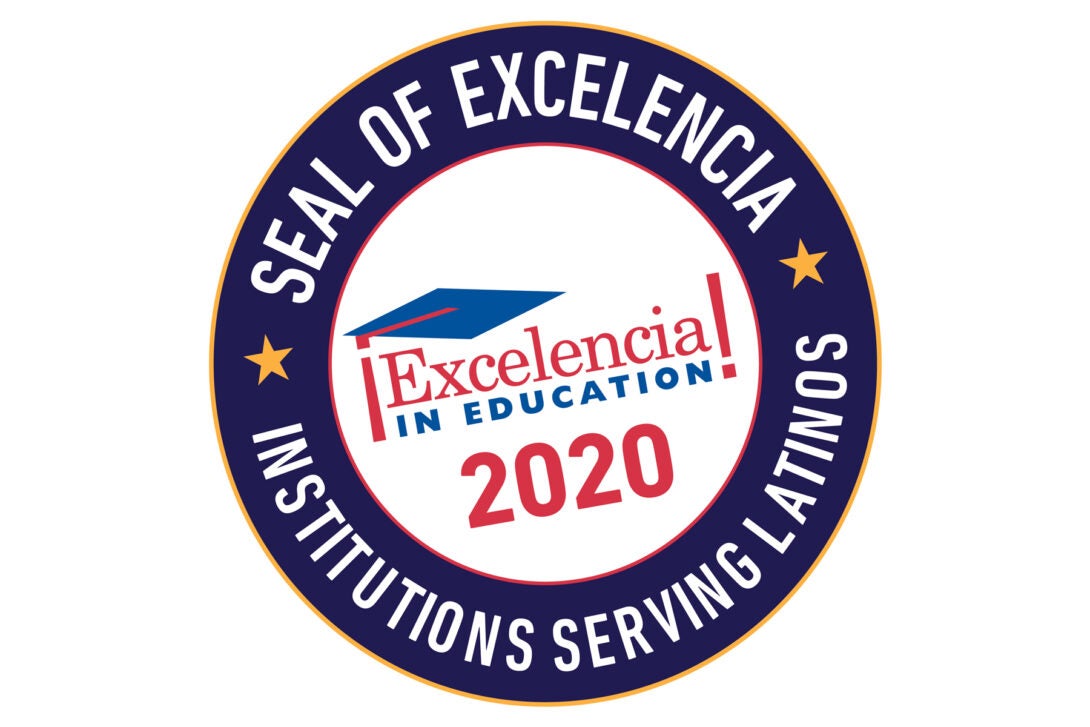 The University of Illinois Chicago has earned Excelencia in Education's "Seal of Excelencia," a national certification that recognizes colleges and universities for their "unwavering commitment to intentionally serve Latino students, while serving all."
UIC is one of five higher education institutions selected for the distinction, which was announced today during a press conference in Washington, D.C.
UIC and the 2020 cohort, which join a group of nine previously "seal" certified institutions in the nation, earned certification by demonstrating specific inclusive strategies, implementing programs with evidence of effectiveness, and registering results that showed they are intentionally serving Latino students amongst all of their students.
"We are proud to be recognized for our efforts to serve Latinx students and to be considered a leader in supporting them with the necessary opportunities for personal and academic growth. We owe this recognition to the UIC faculty and staff who have worked to make the university a friendly and successful place for Latinx students," said UIC Chancellor Michael Amiridis. "UIC is a reflection of Chicago and the community we serve. The diversity of our campus is more than an attribute; it is a critical component of our mission as the city's largest and only public research university."
Key examples of the programs and practices that helped lead UIC to its status as a "Seal of Excelencia" certified institution include:
"Accelerating Latino student success requires institutions to go beyond enrollment and show intentionality and impact in serving students," said Deborah Santiago, co-founder and CEO of Excelencia in Education. "These certified institutions set the pace for much needed institutional transformation and are confronting structural barriers and inequities of longstanding."
From student learning and retention to graduation and career aspirations, student success is a primary focus at UIC, says Nikos Varelas, UIC vice provost for undergraduate affairs and academic programs.
"It is a collaborative effort, guided by data, involving all colleges, offices, programs, faculty, staff, and students. Our programs provide multi-dimensional support to students, which has resulted in an all-time high graduation rate for Latinx and all students at UIC," Varelas said. "This recognition by a national organization of experts on Latinx student success highlights the alignment of our mission with practice."
Latino students make up approximately one-third of the total undergraduate population at UIC, which is a Hispanic-Serving Institution, or HSI, as designated by the U.S. Department of Education.
UIC is also a national leader in doctoral and professional education for Latinx students. Its College of Medicine has consistently the largest number of graduating Latinx physicians in the continental U.S. over the last 30 years.
Furthermore, UIC announced last month that it's leading a new national consortium of all 16 Research 1 HSI institutions in the country to increase the number of Latinx doctoral graduates in the social sciences and the humanities and create pathways for them to the professorate. The consortium will also support Latin American and Latino studies programs.
The seal is the latest honor UIC has recently collected for its commitment to diversity and inclusion efforts. Last month, UIC received its fifth Higher Education Excellence in Diversity, or HEED, Award from INSIGHT Into Diversity magazine. UIC's L@s GANAS program was recently named a recipient of INSIGHT Into Diversity magazine's 2020 Inspiring programs in STEM award.
Modified on February 13, 2023