The UIC Gender and Sexuality Center is Hiring a Permanent Director! Application Deadline Extended to October 13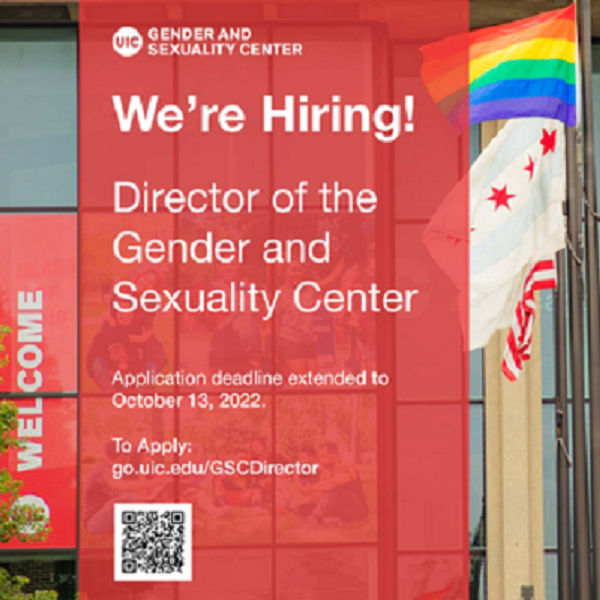 The UIC Gender and Sexuality Center (GSC) promotes deeply engaged and life-affirming thinking, learning and action with students, faculty, staff, alumni and community members. Through programs, initiatives, events and workshops, the GSC creates a more inclusive campus and catalyzes positive social change in the world.
Underlying the Center's work is an understanding of intersecting identities and the multiple layers of diversity within LGBTQIA+ identities including race, class, ability, geography, immigration status and religious affiliation. Our programs are designed to cultivate student success, promote research, expand opportunities for intercultural engagement and build robust community partnerships.
The Director of the GSC is responsible for the administrative leadership and management of the Gender and Sexuality Center and oversees the operations of the Center, which includes the development and administration of programs and activities that provide faculty, staff and students knowledge of issues related to Lesbian, Gay, Bisexual, Transgender, Queer, Intersex and Asexual (LGBTQIA+) communities. The Director promotes an inclusive environment that facilitates LGBTQIA+ students' advancement, growth and development and institutional intervention to support diversity on Campus.
Qualifications:
A Master's degree in a relevant field is required; PhD is preferred. Knowledge of LGBTQIA+ and/or issues relating to LGBTQIA+ students, faculty and staff in higher education. A minimum of seven years of experience with educational and cultural program development and coordination, with at least three years in higher education. Familiarity with program quality assessment. At least two years of high-level administrative experience, overseeing office operations. Ability to be an effective leader/supervisor of a diverse staff. Strong project management skills. Strategic planning and staff management experience preferred. Strong verbal and written communication skills are required. Intermediate skills using Microsoft Office: Word, Excel, Outlook.
For fullest consideration, please submit a cover letter, current resume and contact information for up to three professional references by October 13, 2022. Questions can be directed to Caitlin Culler, Associate Director of Operations, at cculler@uic.edu.
For more details and to apply, please go to: https://uic.csod.com/ux/ats/careersite/1/home/requisition/305?c=uic
Modified on October 02, 2022