Second UIC Neighborhood Center Opens in North Lawndale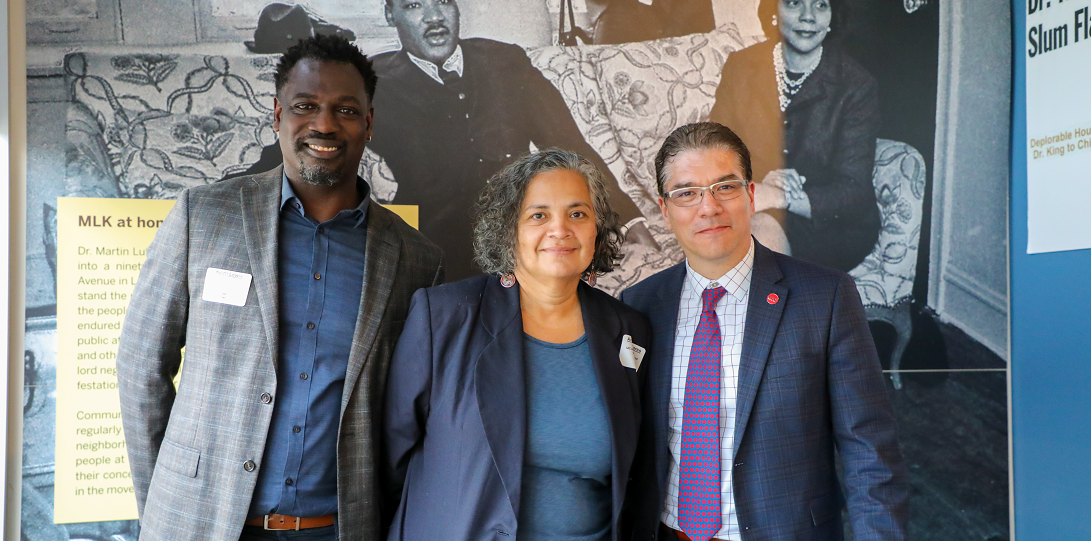 The UIC Lawndale Neighborhood/MLK Exhibit Center officially opened last month in the North Lawndale neighborhood on Chicago's west side. It marks the second neighborhood center opening this fall after the UIC Auburn Gresham Neighborhood Center opened in October.
The UIC Lawndale Neighborhood/MLK Exhibit Center, located at 1558 S. Hamlin Avenue in Chicago, hosted their Welcome Gathering on November 3rd. It was an invite-only event for community-based organization leaders, philanthropy representatives, UIC faculty and staff that was officiated by Paul Norrington of the North Lawndale Historical and Cultural Society and catered by local Lawndale resident Cecilia Victory of Flava Food for the Soul.
Also in attendance were Javier Reyes, UIC interim chancellor, and Amalia Pallares, UIC vice chancellor for diversity, equity and engagement. They highlighted the opening of these centers as part of a place-based approach that can lead to transforming UIC and its commitment to academic/community partnerships.
Keith Lewis, senior director of community collaboration in the UIC Office of Diversity, Equity & Engagement, noted that the Neighborhood Centers project was born out of the Advancing Racial Equity Task Force created by former Chancellor Michael Amiridis. It arose in response to UIC's reckoning with the role higher education can play in improving racial equity, community engagement and increasing black student enrollment and retention at the city's most diverse university.
This project is built on a collaborative model, introduced by Lewis at a retreat in 2021, that acknowledges past harms while asking local stakeholders: "What do you need and expect from an engaged university in your community?" That retreat was the first step towards implementing an inclusive process that centered resident and stakeholder voices throughout the development stages of the centers.
The finalized approach has been to cultivate strong, authentic community relationships by embedding the centers in the fabric of the neighborhood and using UIC's resources to rally around existing quality-of-life plans.
"Community members are excited to see UIC take action in building a permanent presence and lasting partnership," Lewis stated. "We've intentionally curated a space for transparency, dialogue, and growth [where UIC stakeholders can have] another avenue to invest their time, energy and resources into Chicago's neighborhoods where the need is greatest."
Lewis hopes that the centers will serve as a model for how universities can engage with the community and will steward more students from Lawndale and Auburn Gresham to thrive in their academic, professional and personal journeys.
"Through collective efforts our aim is to cultivate a welcoming and nurturing environment both on and off campus," Lewis said.
The Neighborhood Centers and the UIC Office of Community Collaboration plan to continue working with institutional partners including the UIC Center for Literacy, the UIC Urban Health and Early Outreach Program, the UIC African American Academic Network and the UIC CHANCE Program to fulfill their goals of creating a pathway model for community residents, supporting their personal development and growth from infancy to maturity and following their lead as they imagine creative and innovative mechanisms to build community power.
Lewis acknowledged the Lawndale Christian Development Corporation as an important partner that also maintains the historic integrity of the Martin Luther King Fair Housing Exhibit "where we dwell upon the consecrated ground of a great legacy and a great man."
Future welcome gatherings are planned for the public in the spring and summer of 2023.
More information on the UIC Lawndale Neighborhood/MLK Exhibit Center can be found here: https://communitycollaboration.uic.edu/
Modified on December 02, 2022