Office of Diversity, Equity & Engagement Welcomes Mario Lucero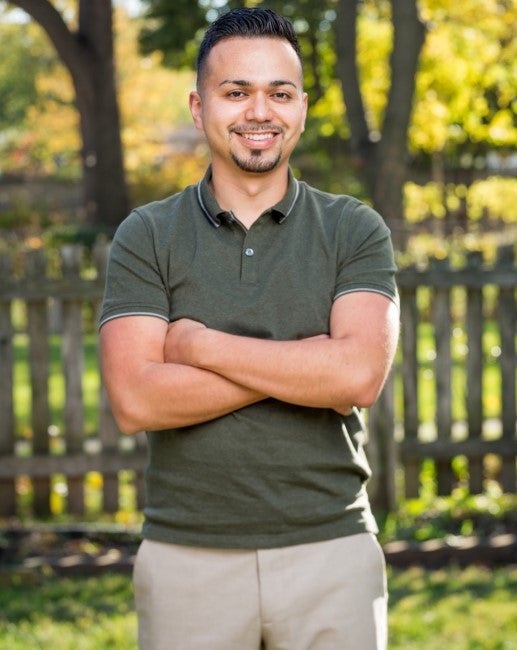 The UIC Office of Diversity, Equity & Engagement is delighted to welcome Mario Lucero as its new director of inclusion initiatives starting on January 16th, pending University of Illinois Board of Trustees approval.
"I am excited to welcome Mario Lucero back to UIC," said Amalia Pallares, vice chancellor for diversity, equity & engagement. "He has a trajectory of creative programming, extensive community and bridge-building and thinking outside of the box that will re-energize our office and contribute significantly to our campus-wide DEI initiatives."
Lucero earned a Master of Arts from UIC's Latin American and Latino Studies (LALS) Program and a bachelor's in Media Arts & Design from The Art Institutes. With over 10 years of teaching experience at Triton College's Adult Education Department serving Black and Latinx members of his communities, Lucero has been able to put theory into practice by leveraging critical theory with an interdisciplinary approach.
He has also explored innovative ways of executing his work as an artist, educator and facilitator working with students, engaging diverse communities and co-leading with academic professionals and leadership teams across multiple industries and majors.
His diverse professional experience has granted him a unique skill set that has brought him success as a trusted thought partner in the field of Diversity, Equity and Inclusion (DEI)—previously having worked as a strategist with The Nova Collective and Fermilab's Office of Equity, Diversity & Inclusion.
Lucero will work with the office of diversity to support the vice chancellor for diversity, equity & engagement by working with academic units to navigate retention, support and mentoring of underrepresented faculty hires. Additionally, he will be responsible for developing and implementing campus initiatives that deepen and increase diversity, equity and inclusion efforts for students, faculty and staff.
"My greatest hope for this position is to leverage my lived experience to complement UIC's amazing talent for us to lead collectively," said Lucero. "My years with the UIC Latino Cultural Center have taught me that when it comes to DEI efforts, candid storytelling and dialogue—con el corazón en mano (with the heart in hand)—is a crucial strategy for centering community-led approaches."
Mario Lucero can be contacted at mlucero@uic.edu.
Modified on July 17, 2023