Empowering Indigenous Scholars: IGSA is 'A Breath of Fresh Air'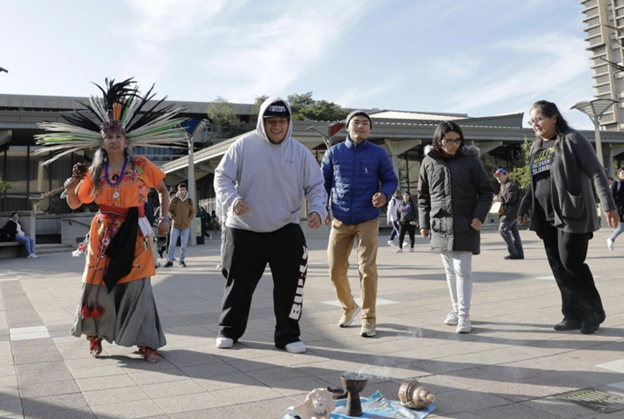 Since its founding in August 2022, the Indigenous Graduate Student Association (IGSA) has quietly but resolutely sown the seeds of academic and cultural enrichment within the bright tapestry of campus life. Over the past year, IGSA has flourished, encouraging camaraderie, diversity and inclusivity among all participants.
The organization prides itself on its ability to bridge gaps, allowing students to feel like a key part of the broader community that they have always been searching for. Additionally, the IGSA's inclusiveness has given students a forum to express their many indigenous identities.
As co-founder and president Zoë Harris noted, "We have such a wide array of what indigeneity looks like and I think it really fosters what we want to do, what we want our community to look like and people really just like showing up as they are."
During their inaugural year, IGSA achieved several noteworthy milestones, including the planning of a Native Healthcare event in Chicago that featured the former executive director of the American Indian Health Service. Members were also able to explore their cultural backgrounds with a visit to the updated Native American exhibit at the Field Museum. The IGSA examined the evolving roles of Indigenous leaders in reproductive justice with the Women's Leadership and Resource Center (WLRC) and collaborated on study sessions with the Black Graduate Student Association, emphasizing inclusivity and intersectionality as key priorities.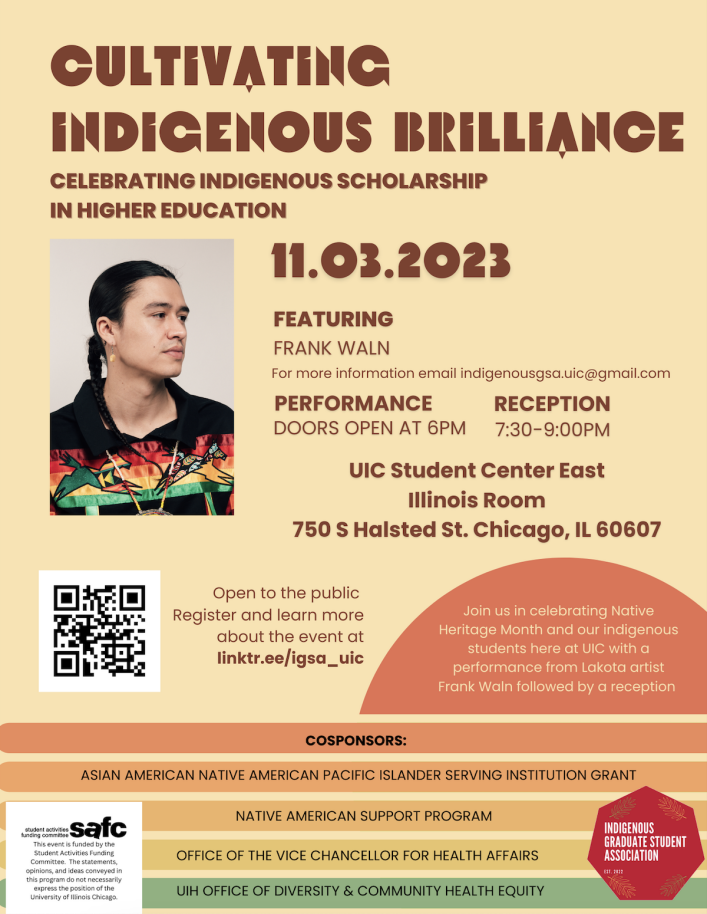 Their 2023 Native American Heritage Month event, held on November 3rd, featured Frank Waln performing and discussing his journey through higher education, coupled with a reception featuring food from indigenous-owned businesses. While providing native students with an enjoyable experience, these activities also provide a means of introducing non-indigenous faculty, students and community members to the diversity of indigenous cultures in education.
Harris mentioned that the organization hopes to plan more brunches with the Native American Support Program that support BIPOC-owned restaurants, as well as storytelling events which transcend all indigenous cultures for the winter season. As an organization, IGSA has made a strong commitment to sustainability and retention, recognizing how crucial consistency is to fostering positive environments.
Symbolizing the idea of "seven generations before you and after you," the IGSA's seven-sided emblem represents the organization's dedication to fostering the current and future generations of indigenous students at UIC.
Harris emphasized that the relationships she has cultivated within the organization and the UIC community as a whole are the most fulfilling part of her work, a sentiment that she hopes is shared by her fellow IGSA members.
"Being able to have this group for me feels like a breath of fresh air sometimes," Harris asserted. "Like I can just hang out and talk about everything and nothing."
Modified on November 05, 2023