Bridge to Faculty scholar's play 'Romero' sheds light on martyred social justice icon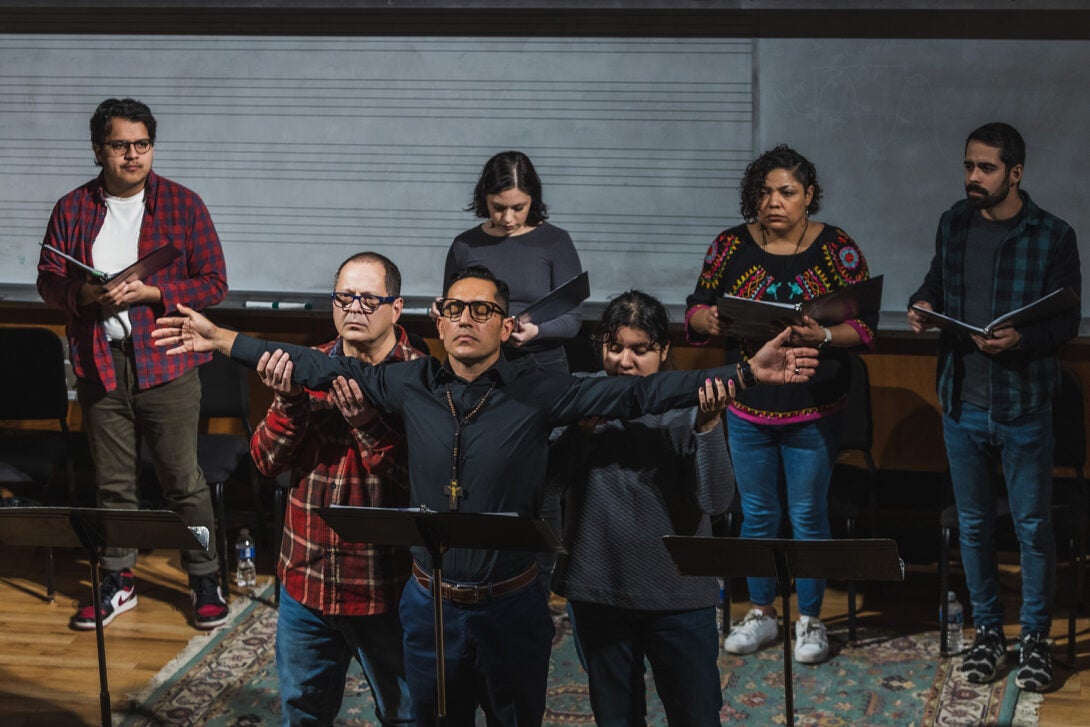 In the first few minutes of Xiomara Cornejo's play "Romero," Salvadoran archbishop Óscar Arnulfo Romero is assassinated as he celebrates Mass while flanked by two archangels who then guide his soul to heaven.
While the death of the protagonist would usually signal the end of the story in a conventional narrative, Cornejo's play uses the dramatic assassination of Romero on March 24, 1980, to begin the piece and focus on the social justice advocate's struggle in the afterlife to accept his canonization in 2018.
Staged readings of the play took place recently at the University of Illinois Chicago, the Steppenwolf Theatre and Centro Romero. Eventually, Cornejo envisions a full production complete with costumes, ornate sets and life-sized puppets.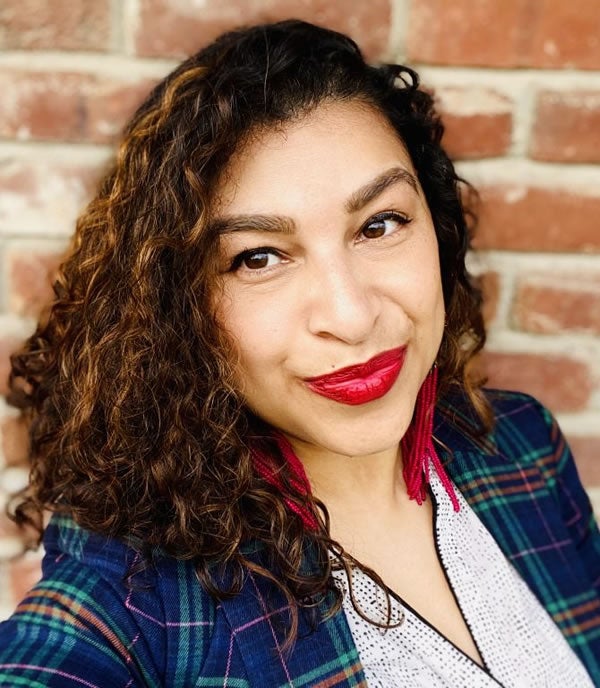 Cornejo, a Bridge to Faculty postdoctoral research associate in the School of Theatre and Music in the College of Architecture, Design and the Arts, first wrote the play as part of her dissertation at the University of Missouri, where she earned her PhD in theater and performance studies.
She joined UIC in 2021, when she became part of the second cohort of scholars in the Bridge to Faculty program, a recruitment initiative designed to attract underrepresented postdoctoral scholars with the goal of a direct transition to a tenure-track junior faculty position after two years. Cornejo has accepted a tenure-track position at UIC and will join the theater faculty in September.
Last year, the play earned the John F. Kennedy Center American College Theatre Festival, Region 5 National Partners of American Theater "Outstanding Play" Award and was named a national semi-finalist.
For Cornejo, the play meant tapping into her own narrative. As the daughter of immigrants who left El Salvador in the late 1970s to escape government repression and death squads, Cornejo viewed the martyred priest as a beacon of hope. In the play, Romero is guilt-ridden about being named a saint as the people continue to struggle in the Central American country.
"I grew up with the teachings of Óscar Romero," Cornejo said. "He was canonized in 2018, but he was a saint to us far longer than that. My play is exploring some of those ideas of Óscar Romero and his legacy and the manifestation of someone's social justice legacy."
Cornejo, a native of Compton, California, in southern Los Angeles County, grew up in a community whose roots were overwhelmingly from Latin America. She received her bachelor's degree in theater directing/performance at California State University, Long Beach, and later her master's in public art studies from the University of Southern California.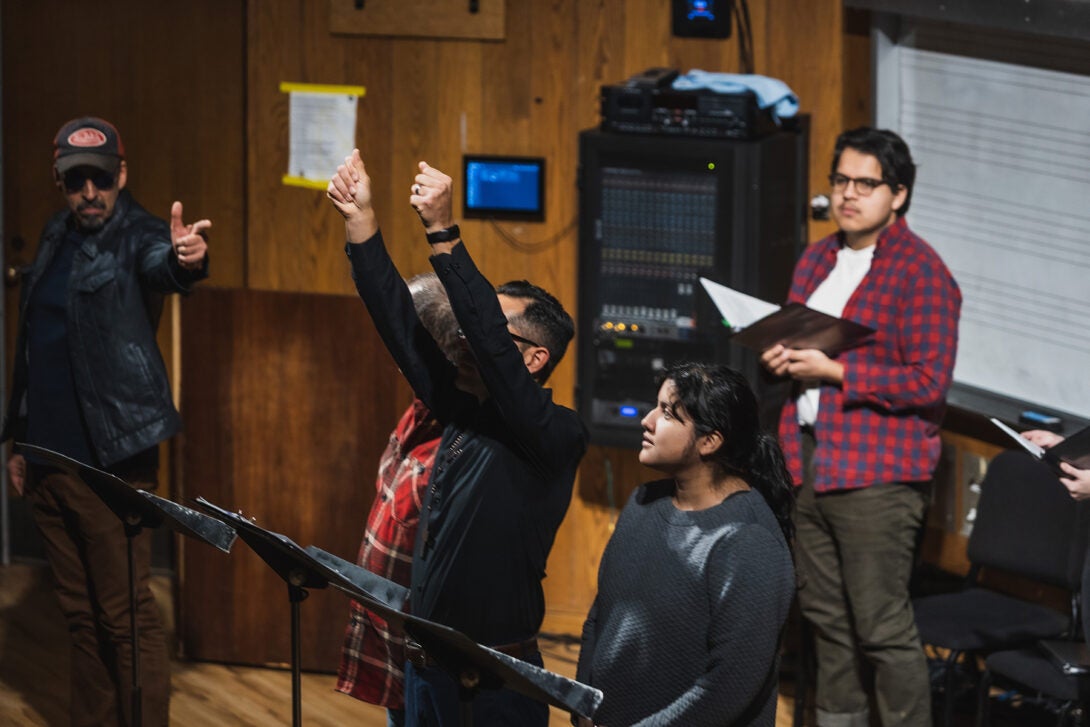 For nearly a decade she worked as a community organizer and helped facilitate after-school art programs with youth and adults throughout south Los Angeles. She was also an active member of the Occupy Movement Arts Committee in Long Beach, where she used protest theater, puppet making and community organizing to spur social change.
After receiving her doctorate at the University of Missouri, she began searching for her next opportunity when she discovered the Bridge to Faculty program at UIC. She was "fascinated" by the goals of the program, which are to promote diversity and inclusion and provide opportunities to underrepresented postdoctoral scholars like herself. She said what sold her on UIC was that it is a Minority-Serving Institution and a Hispanic-Serving Institution that supports diverse populations and first-generation students.
"I was that student when I was studying theater in California and so I really identified with that," Cornejo said. "Those are the types of communities and the types of students, especially theater makers, that I love working with and shaping, mentoring and supporting."
Cornejo credited Amalia Pallares, vice chancellor for diversity, equity and engagement, and Angela Walden, assistant vice chancellor of diversity initiatives, for leading the initiative and providing "an incredibly supportive" environment.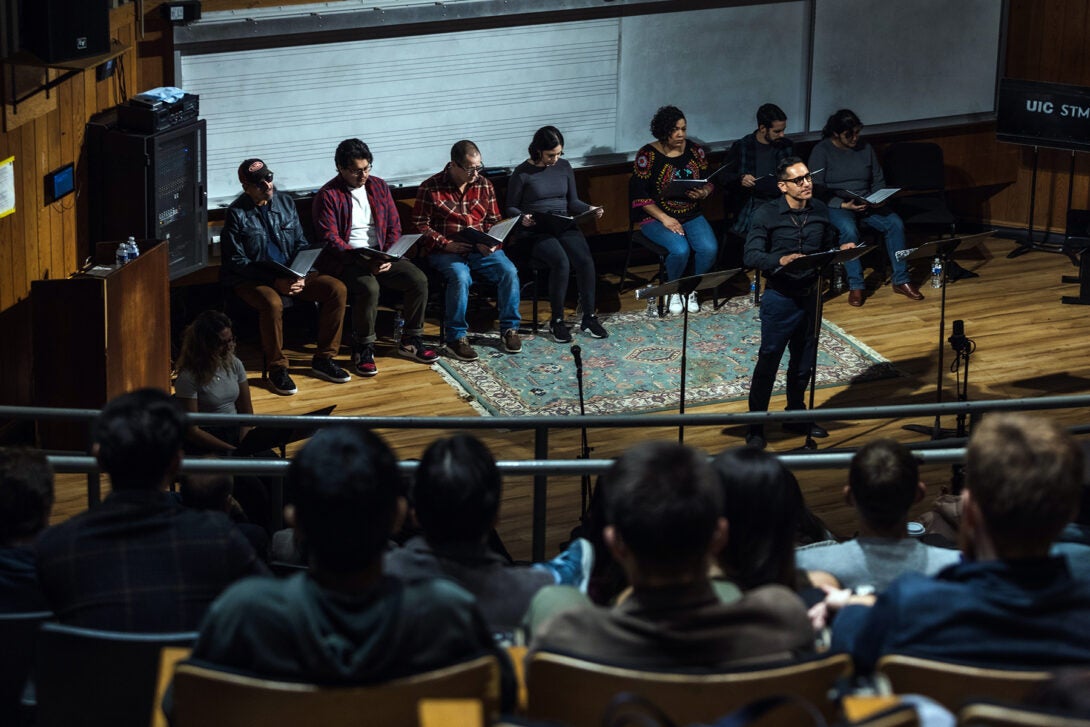 "The cohort [members] have now become my closest friends. I don't have family in Chicago, so this group has become my community," Cornejo said.
When she took the position at UIC she made her work on "Romero" and its production part of her research and creative work as a Bridge to Faculty scholar. The production was co-sponsored by the UIC Center for Latinx Literature of the Americas and the UIC Institute for the Humanities, and was a community-based collaboration between the Centro Romero, Teatro Vista with support from Steppenwolf's LookOut series, and the UIC School of Theatre and Music, she said.
Each presentation was sold out and audience members paid rapt attention to the emotionally laden words spoken by the actors. After the staged readings, discussions were held featuring Chicago-based artists, UIC faculty and Centro Romero staff.
Daysi Funes, executive director of the Centro Romero in Chicago, participated in the discussions. Funes said the "powerful" play — which uses the priest's own words and historical events — honestly presented the struggle Romero faced.
As a Salvadorian immigrant herself who had met Romero, Funes said Cornejo captured the prelate's humility. She said the play helped her remember traveling to Rome and watching as Pope Francis led the canonization ceremony in Saint Peter's Square. The Pope, who is from Argentina, wore Romero's bloodstained cincture in the ceremony.
"People from all over the world, not only the Salvadorians but whoever believed in justice, were there," Funes said. "When I saw the play, I could see how it embodied that part, and it touched my heart."
Cornejo said Romero's story is important today as people struggle for social justice and try to "speak truth to power" while authoritarian leaders use repression and violence to keep people from attaining freedom and human rights.
No one has been brought to justice for the killing of the popular priest, who spoke out against government-sponsored violence and repression.
"It's amazing and also heartbreaking to realize many of those things have not changed," Cornejo said. "I hope people will be inspired to dig deep within themselves about what they can do and what their role is in creating a more just and equitable world."
Modified on March 31, 2023