New all-gender restroom opens to better serve UIC community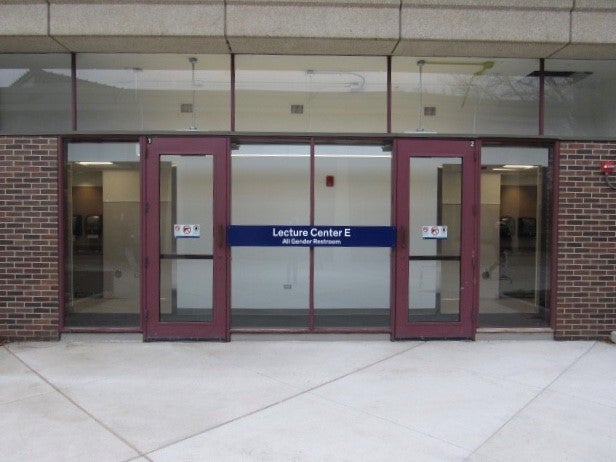 The conversion of the Lecture Center E men's restroom into a multistall, all-gender facility is the culmination of more than a year and a half of work to determine campus restroom facility needs and the best ways to implement them.
The upgraded and enhanced facility opened Jan. 9, and features 33 new stalls, including three that are ADA compliant, along with an accessible lactation room and baby changing areas. Water bottle filling stations also have been added at the north and west entrances for additional convenience. The restroom is open Monday through Friday from 7 a.m.-9 p.m.
"As the university and student enrollment grew in recent years, the number of restrooms on its east campus was becoming insufficient," said John Coronado, vice chancellor for administrative services. "During the Spring 2021 semester, OVCAS formed a committee whose charge was prioritizing restroom projects to increase fixture counts."
The committee met several times during that semester to establish a set of guiding principles that would guide the development of a prioritized restroom project list, and a campuswide study was conducted to determine where there was the most need on campus. The final principles included the following:
The east side of campus would be the initial focus of bathroom renovation projects, emphasizing the zone of academic facilities located at the core of the east side of campus.
The total fixture count needed to increase with an emphasis on ADA accessibility and all-gender restroom provision, which is more efficient since those facilities can be used by everyone.
Plans would focus on high-traffic and/or high-visibility areas that are key campus activity nodes, particularly on the ground floor.
"Lecture Center E and the other five adjacent lecture center facilities accommodate up to 14,000 students daily that are either taking classes in their classrooms or passing through the core campus area," Coronado said. "The expansion of the restroom at LCE aligns with the recent renovation of the Quad landscape to provide a space where students can study, meet and gather without needing to travel long distances to access restroom facilities."
Modified on March 01, 2023