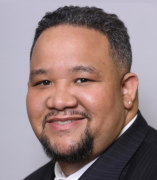 Yuji Toefield
Assistant Director of Educational Outreach, UIC CHANCE Program
About
Mr. Yuji Toefield is the Assistant Director of Educational Outreach for the UIC CHANCE Program and serves as the Chair of the UIC Chancellor's Committee of Blacks. He has worked in higher education for nearly 25 years, and his expertise lies in the field of College Recruitment, Admissions and Retention. He considers working in higher education a very rewarding experience and enjoys assisting students in their pursuit of higher education.
He believes that education plays a key role in "levelling the playing field" of our society. Believing that "Failure is not an option", he encourages all students to network with as many people as possible throughout their educational and professional career.
On a personal note, he enjoys spending time with his family and his 2 young sons. His mission is to uplift his community and help inspire the next generation of leaders. Mr. Toefield earned his Bachelor Degree in Sociology from the University of Illinois at Urbana-Champaign, Master's Degree in Education from the University of Illinois at Chicago and is currently pursuing a Ph.D. at UIC.