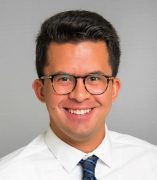 Marvin Solberg
Biobehavioral Nursing Science
About
Marvin Solberg is a 5th year PhD candidate at Wayne State University College of Nursing. He is also obtaining a Graduate Certificate in Alcohol and Drug Abuse Studies through the School of Social Work. While at Wayne, Marvin's academic excellence has been recognized as he was a recipient of the Dean's Diversity Fellowship (2016-2018) and is currently funded as a Graduate Teaching Assistant. He was also recognized as an American Psychiatric Nurses Association (APNA) Board Scholar in 2020.
During his doctoral program, Marvin has demonstrated outstanding scholarship as he has submitted four manuscripts for publication. One manuscript, which is published in the Journal for Nurse Practitioners investigated spirituality in nurse practitioner curricula. Another manuscript, published in the Journal of Immigrant and Minority Health, investigated adverse childhood experiences (ACEs) and health outcomes among U.S. immigrants and refugees. A third manuscript, published in the Western Journal of Nursing Research, examined the psychometric properties of the Brief COPE instrument in a sample of pregnant Black women. A fourth manuscript, which is a systematic review of the factor structure of the Brief COPE, was recently published in the Western Journal of Nursing Research. In addition to publications, Marvin has disseminated his work at numerous local, regional, and national conferences including the Urban Health Conference in Detroit, MI, Midwest Nursing Research Society (MNRS), and American Psychiatric Nurses Association (APNA).
Marvin also has extensive clinical expertise in psychiatric nursing. He has experience in acute inpatient psychiatry, addiction medicine, and emergency psychiatric services. These clinical experiences and scholarly activities helped focused Marvin's research interest in examining the association of childhood adversity and negative health outcomes in young adults. Specifically, Marvin is investigating the effects of childhood adversity on mental health outcomes (depressive and anxious symptomology) and substance use (alcohol, marijuana, tobacco, and e-cigarette) among Black and White young adults. To fund his dissertation research, Marvin is funded by Sigma Theta Tau International Lambda Chapter, Blue Cross Blue Shield of Michigan Foundation, and WSU Graduate School/ College of Nursing Dissertation Research Support. Results of his dissertation address a gap in literature related to the role childhood adversities have in health disparities facing Black young adults.