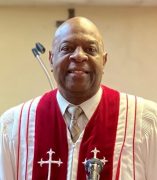 Randall Wayne Harris Sr.
Pastor, Faith Community Church of Chicago
About
Reverend Randall Harris Sr. is a graduate of Central State University where he earned a BS in Business Administration. Upon graduating he earned an MBA from the University of Kentucky, and a Masters of Divinity from Northern Baptist Theological Seminary.
From October 1995 to February 2005, Rev. Harris was employed by Pyramidwest Development Corporation as part of the development team for commercial and residential projects. In 1998, they completed the $10 million Lawndale Shopping Center anchored by a Dominick's food store. Rev. Harris managed the shopping center's day-to-day operations responsible for all service contracts and tenant leasing. Rev. Harris also worked on the development of the Troy Townhouses project (24 townhouses).
During that time period, Rev. Harris served as president of the Westside Federation (2002 to 2012). He played an integral role in bringing together diverse community organizations (Lawndale Christian Development Corporation, Safeway Construction, and the Westside Federation) to develop the Dr. Martin Luther King Legacy Apartments on the same street where Dr. King lived back in 1966. These quality affordable rental units were built in honor of Dr. King's work in fair housing. The 45-unit building houses the MLK Fair Housing Museum and was completed in 2011, a $17 million project.
Rev. Harris currently serves as Vice President of the Board of Mile Square Health Center.
Rev. Harris is also married to his wife Victoria and they have two young adults, Renata and Randall II.