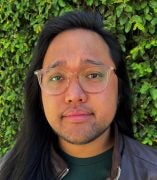 Justin Quang Nguyên Phan
Global Asian Studies
About
Justin Quang Nguyên Phan is currently a Bridge to Faculty Postdoctoral Research Associate in the Global Asian Studies Program at UIC. As a McNair Scholar, he majored in Women's and Gender Studies, Asian American Studies, and Sociology at the University of California, Davis. He then received a dual master's degree at the University of California, Riverside in Ethnic Studies and Southeast Asian Studies, before completing his doctoral work in the Department of Ethnic Studies at the University of California, Riverside.
His current book manuscript, tentatively entitled Embodied Nonalignment: Vietnamese Diasporic Aesthetics and Cold War Mediations, is a transnational study of contemporary Vietnamese and Vietnamese diasporic art, film, and literature in present-day Việt Nam, Senegal, France, and the United States. Employing visual and performance analysis, interviews, and archival research, Embodied Nonalignment examines how contemporary Vietnamese artists re-mediate the cultural, political, and economic legacies of de/colonization and war in Việt Nam and among the Vietnamese diaspora.
His research and teaching interests focus on Southeast Asian diasporic cultural texts, refugee studies, feminist theories and epistemologies, decolonization, colonial and empire formations, critical race and ethnic studies, aesthetics, embodiment, queer diaspora, Afro-Asia, militarism, transnational feminisms, and visual culture.