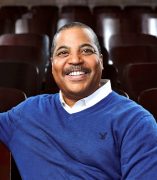 Carlos Nelson
President & CEO, Greater Auburn Gresham Development Corporation
About
Carlos Nelson is the CEO of the Greater Auburn Gresham Development Corporation a position he has held since 2003. Since then, Carlos has grown the organization from a one-person operation to a staff of forty full-time and part-time associates; with over 100 volunteers helping the organization carry out its mission of using comprehensive community development strategies to improve the quality of life of the residents and revitalize the underserved southside communities that make up greater Auburn Gresham.
Prior to his work on the south side of Chicago, Carlos used his technical talents as a mechanical engineer with Whirlpool Corporation in Tennessee. He then returned home to Chicago's Auburn Gresham community where his grandparents settled in the 1960s and lead telecommunications design and development work for Andrew Corporation throughout North and South America.
As an engineer, to satisfy his urge to help communities and families in need, Carlos tutored for several years with the Cabrini Green Tutoring Program. In April 2002 he started volunteering for a small, upstart not-for-profit organization around the corner from his house. When the founding executive director left the Greater Auburn Gresham Development Corporation in December 2002, Carlos was offered and accepted the position of Executive Director in January 2003, leaving corporate America behind. Under Carlos' leadership, his organization designed innovative development strategies and won the Pritzker Traubert Foundation's $10MM Chicago Prize competition in 2020.
Carlos holds a Bachelor of Science Degree in Mechanical Engineering and a Masters Degree in Business Administration.
Carlos serves on several boards, committees, and advisory councils including the board of directors of Chicagoland Habitat for Humanity, MAPSCorps, Inc.,; Greater Chatham Initiative and New Pisgah Community Service Organization; Local School Council for Richard J. Oglesby Elementary School, and Advisory Board of the Chicago Development Fund. Carlos also co-chairs the 006th Police District's Business Subcommittee and is a former recipient of the Norm Bobbins Emerging Leaders Award.