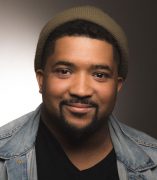 About
Monty Cole is an award-winning theatre and film writer-director from Oak Park, IL. He has directed for Steppenwolf, Center Theatre Group, The Goodman Theatre, The Repertory Theatre of St. Louis, Victory Gardens Theater, the Center for New Performance, Cape Cod Theatre Project, Alley Theatre and others. Recent projects include directing The Bacchae at The Court Theatre, serving as Guest Director and Film Coordinator for Reverb at University of Illinois Chicago, and a workshop of his first feature film at the Center for New Performance in California.
His re-interpretations of classics, from Eugene O'Neill's The Hairy Ape to Shakespeare's Hamlet, have received awards and critical praise in Chicago. His plays include American Teenager (a commission from the Goodman Theatre) and Black Like Me, an adaptation of the 1961 novel currently in development with The Repertory Theatre of St. Louis. Cole was one of four writers in the Goodman Theatre's Playwrights Unit and last summer was a participant in The Orchard Project's Liveness Lab. Cole has written two essays for Rescripted: "Pass Over and The Chicago Theatre Aesthetic" and the more recent essay "The American Theatre Is Not Built for Us". He is currently an Artist in Residence at the Center for New Performance. This Summer, Cole will direct three short films: Six Feet Apart by Isaac Gomez, Sons Of Toledo, written by Cole and Matt Foss, and his own short, Whole.
Monty has a BA in Theatre Studies from Emerson College and an MFA Directing degree from the California Institute of the Arts.