UIC Office of Diversity and CATE Launch Inclusive Education Scholars Certificate Program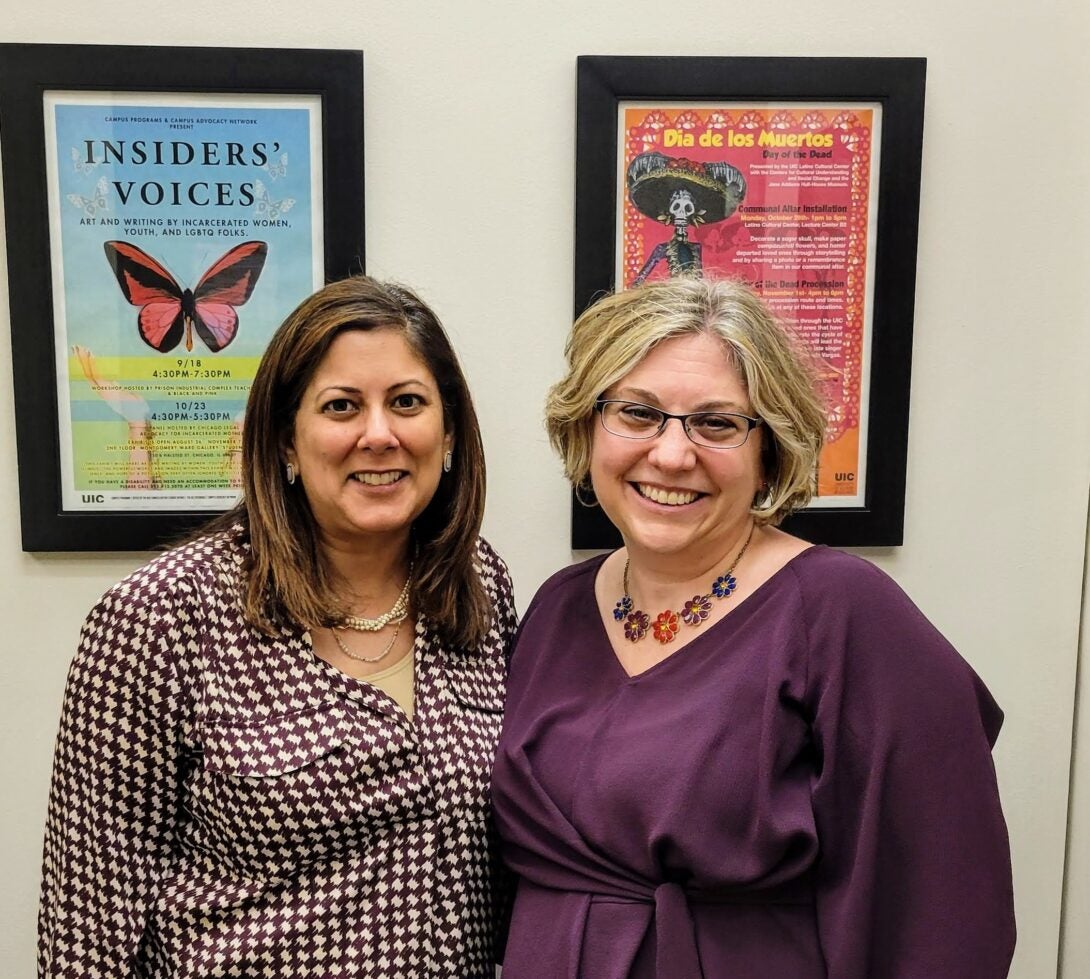 The UIC Center for the Advancement of Teaching Excellence (CATE) recently launched a new program in partnership with the UIC Office of Diversity, Equity & Engagement (ODEE) to help UIC instructors support student success and well-being by building inclusive classrooms. The Inclusive Education Scholars Certificate Program (IESCP) combines self-guided online learning modules with participation in learning communities and workshops to impart the knowledge and skills needed to create a positive classroom climate and strengthen the UIC educational experience.
Development of the IESCP was spearheaded by Charu Thakral, PhD, executive associate vice chancellor for diversity and lead for the Inclusive Classroom Initiative in the ODEE, and Erin O'Leary, PhD, executive director of CATE. It stemmed from a request by the university to submit a quality initiative proposal as part of the Higher Learning Commission (HLC) accreditation process, with the goal of creating and sustaining an institutional culture that advocates excellence in inclusive teaching and learning.
The varied curricular offerings–both online and in facilitated group settings, including multiple CATE Teaching Tidbits Workshops–enable instructors to learn about the lived experiences and contextual barriers to academic success faced by different student groups, leverage the benefits of diverse classrooms in becoming more culturally-responsive in their teaching and adapt inclusive and equity-minded teaching practices.
Despite being a pilot offering this spring, the IESCP's inaugural learning communities reached full capacity and had multidisciplinary representation from across the campus. Faculty and staff expressed excitement and support for the program and the opportunities it seeks to provide for their professional development.
"Faculty have welcomed support in their journey to expand inclusive teaching practices in every form of instruction," said Interim Chancellor Javier Reyes. "By aligning the resources and expertise of CATE with the experience and vision of ODEE we have been able to provide instructors with inclusive practices to foster a sense of belonging for our students–a core value at UIC."
Although there were initial concerns that the time demands of the program may deter instructors who are often overextended as they manage research, teaching and service responsibilities, the response thus far has been very promising.
"Our education community, as champions of student success, showed up and have exceeded our expectations." stated O'Leary. "We are honored by their commitment and celebrate their dedication to completing this program."
The IESCP culminates in the achievement of an Inclusive Education Scholars Certificate jointly signed by the vice chancellor for diversity, equity and engagement and the vice provost for faculty affairs. Certificate completion is recognized as a core service tied to the institutional policy that incentivizes and rewards instructors for their participation in activities that demonstrate their commitment to equity, diversity and inclusion at UIC.
"The program is very interactive, engaging, evidence-based, profound and provides a platform to build a learning community of instructors across ranks and units," shared Miquel Meler-Gonzalez, PhD, a professor in biological sciences who participated in the first IESCP cohort. "Highly recommended no matter how good we think we are at teaching and mentoring."
Beyond the broader program objectives, the underlying purpose of the IESCP is to help faculty understand the interconnectedness of teaching excellence and diversity in the classroom.
"By teaching inclusively, we aim to support faculty in their efforts to prioritize inclusion as much as disciplinary fidelity in their teaching, and challenge perceptions related to compromising rigor and standards for academic achievement," Thakral asserted.
Any instructor of record who teaches at UIC is eligible to participate in the IESCP. This includes tenure-track and non-tenure track instructors, full-time and part-time instructors and staff who teach. Interested instructors are highly encouraged to reach out to the program for more information.
Modified on April 30, 2023