UIC Office of Community Collaboration Promotes Local Entrepreneurs' Competition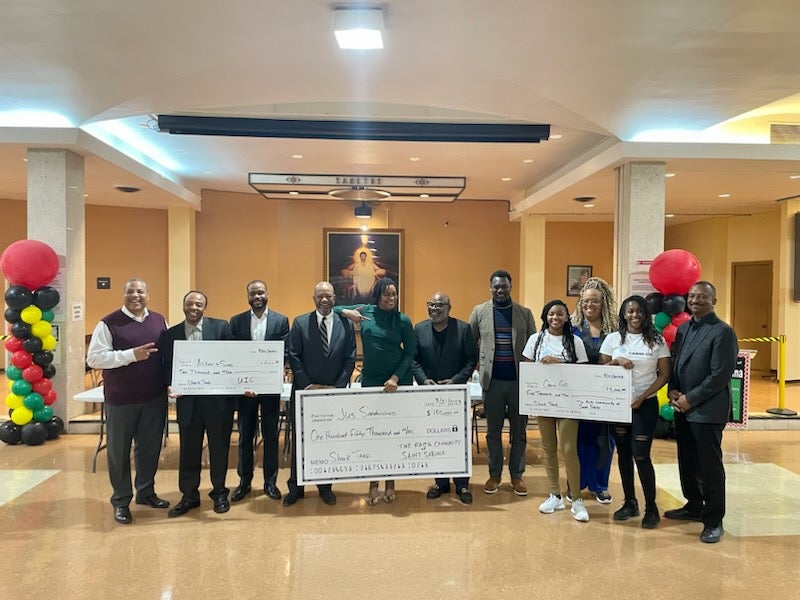 Inspired by the hit TV show "Shark Tank", the Auburn Gresham community hosted a competition for local entrepreneurs to support and incentivize ongoing neighborhood investment. The event was held on March 21 at the Saint Sabina Church on the southside of Chicago and saw a great turnout from community members.
The competition featured several local entrepreneurs as they presented their business ideas to a panel of judges, who evaluated each plan and decided which businesses were most worth investing in. The judges included successful business owners and community leaders who provided valuable advice and mentorship to the contestants.
The first place winner was Karen Roberts of Jus Sandwiches, whose stated goal was to start a brick and mortar location to expand the Jus Sandwiches empire.
The second place winner was Thaddeus Askew of Askew and Sons, who aim to beautify their communities through offering seasonal agriculture services.
The third place winner was Regina Jackson of Carni-Go who plans to utilize this award to build on her idea to create a new food chain with a wide menu variety.
Additional support to assist the winners with their business development is being offered by Steve Bob, UIC Neighborhood Center economic development lead and director of the Entrepreneurial Support Program within the UIC College of Business.
Keith Lewis, senior director of community collaboration in the UIC Office of Diversity, Equity and Engagement (OoDEE), was also in attendance.
Lewis, who oversaw the realization of the UIC Neighborhood Center in Auburn Gresham in 2022, stated: "We are excited to see all these different business ideas and eager to see what comes next for them."
The UIC Office of Community Collaboration, which is housed under the OoDEE, co-sponsored this event.
The event was regarded as a great success and provided a platform for local entrepreneurs to showcase their ideas and receive feedback from experienced judges. The hope is that this event will inspire other entrepreneurs in the community to pursue their business ideas and make positive contributions to the local economy. To that end, the organizers are already planning to host another competition in the near future.
Modified on April 03, 2023