UIC Neighborhood Center Opens in Auburn Gresham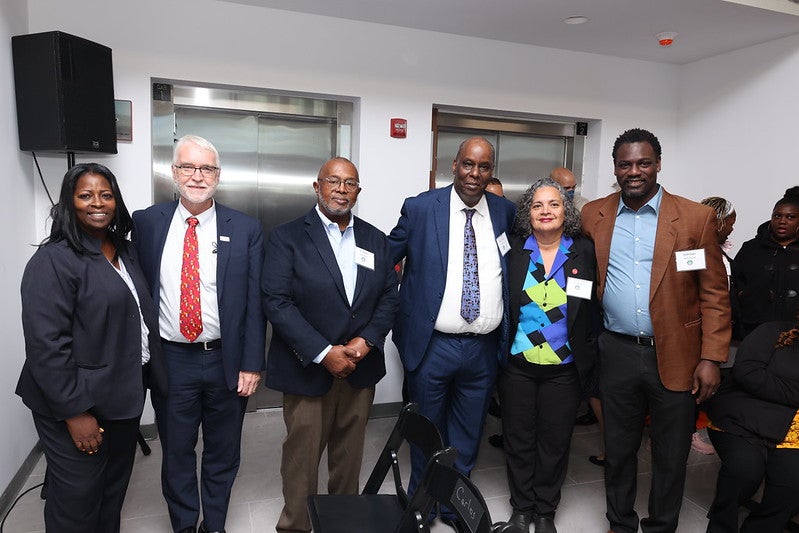 A growing partnership between UIC and the Auburn Gresham community on the city's south side has led to the new UIC Neighborhood Center, which opens this month at 839 W. 79th Street. The center aims to address disparities in the community and is expected to feature numerous programs, including academic advising, workshops and legal services.
The opening of the center reflects UIC's continuing commitment to diversity, equity and inclusion. Another UIC neighborhood center in North Lawndale is also being developed.
"We're working closely with these communities," said Keith Lewis, senior director of community collaboration in the UIC Office of Diversity, Equity & Engagement. "Our goals include increasing Black enrollment and retention and providing services that catalyze community development."
The center is part of The Auburn Gresham Healthy Lifestyle Hub, which was developed by the Greater Auburn Gresham Community Development Corporation (GAGDC), with support from a $10 million grant from the Pritzker Traubert Foundation and $4 million from the city's INVEST South/West project. Other tenants at the site include the University of Illinois Health Mile Square Health Center, Bank of America and Heartland Human Care Services.
Carlos Nelson, executive director of GAGDC, pointed to the potential impact of UIC's partnership with the community: "UIC is the largest public education institution in Chicago and the neighborhood center is designed to show that the university is extending into the community."
State Sen. Jackie Collins, who represents the community, added that the Healthy Lifestyle Hub and UIC Neighborhood Center "might be a spark of hope in Auburn Gresham–especially for young people. Any investment at this point is worth the effort."
Led by former UIC chancellor Michael Amiridis, the university formed an Advancing Racial Equity Initiative in 2020 and reached out to stakeholders in Auburn Gresham. The initiative was formed during a turbulent year when COVID infection rates skyrocketed in black communities and George Floyd was murdered by police in Minneapolis.
Like many communities of color in Chicago, Auburn Gresham has been hit extraordinarily hard by a legacy of white flight, redlining and disinvestment. Many residents, however, have stayed in the community and persisted.
Cynthia Love heads Block by Block in Auburn Gresham, a non-profit organization of second and third-generation homeowners and businesses, and is also a realtor.
"Our community has been without a lot of commerce for years," Love said. "We are excited about what UIC can bring to the community."
Meanwhile, Leo High School, a private all-male Catholic high school founded in 1926, has increased its student population in recent years under principal Shaka Rawls. The school is partnering with the center.
"What the UIC Neighborhood Center does," Rawls said, "is apply resources to spaces where the community lives. UIC can give students another set of possibilities they didn't know existed."
Aisha El-Amin, associate vice chancellor for equity and belonging at UIC, highlighted the university's growing commitment to the community. "We've been working to create engagement between the university and people in Auburn Gresham that is authentic. This is about partnering with the community in ways that we have not done before."
Dan Baron is a writer who has worked as a journalist and columnist, communications consultant and grant writer. His email address is dan@danbaron.com.
Modified on February 08, 2023