Medicina Academy Apprentice Program Seeks Next High School Cohort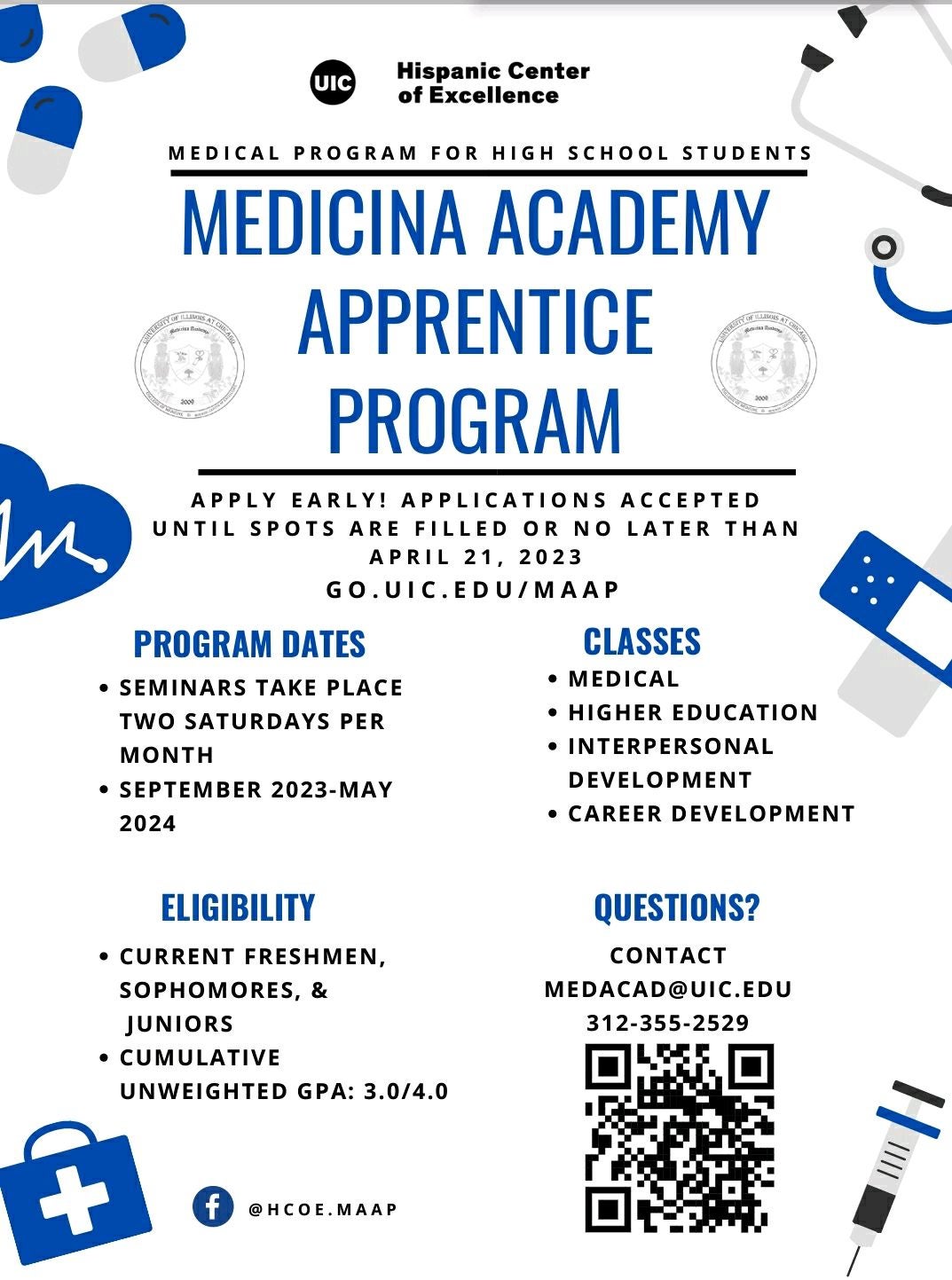 Applications are now open for the next cycle of the UIC Hispanic Center of Excellence (HCoE) Medicina Academy Apprentice Program (MAAP), a highly engaging pre-medical apprentice program which seeks to provide pathways for local Latino high school students to prepare for professions in the medical field.
Developed in 2009 as part of the HCoE's medical pipeline initiative, MAAP is a nine month-long program that runs sessions twice a month on Saturdays during the academic year (September – May). These include opportunities for apprentices to take part in medical courses, lab sessions, higher education courses, inter/intrapersonal activities and career development.
In keeping with the HCoE's mission of promoting the development of health practitioners who capably deliver language concordant and culturally responsive care to historically underserved Latinx communities, the MAAP curriculum focuses specifically on public health and addressing inequities in healthcare.
"Health providers who speak the same language and share culture and commonalities in lived experiences with patients are better able to establish trust, engage in shared decision making and make treatment plans that promote the best health outcomes for patients and their communities," said Monica Vela, MD, director of the HCoE.
Vela pointed to the challenges and struggles that lay ahead to ensure adequate care for the growing and aging Hispanic population, which have been further complicated by the impact of the ongoing COVID-19 pandemic.
"It is with great urgency that we must forge ahead and guide students on their path to becoming leaders charged with a mission to bring justice and equity to all patients and communities," she stated.
Eligible students must be a current 9th, 10th or 11th grader at the time of application, be Hispanic/Latino or interested in medical careers that serve the Latino community and know at minimum conversational Spanish.
Interested applicants can apply by submitting the MAAP admissions online application including a personal statement, recommendation letter and form and unofficial transcript. The HCoE recommends applying as early as possible since applications will be closed prior to the deadline if all spots are filled before then.
Applications are accepted until spots are filled or no later than April 21, 2023.
For more information and to apply, please visit: https://medicine.uic.edu/hispanic-center-of-excellence/medical-students/high-school-students/
Modified on January 27, 2023