College of Education Ph.D student named Presidential Award finalist for science teaching
College of Education Ph.D student named Presidential Award finalist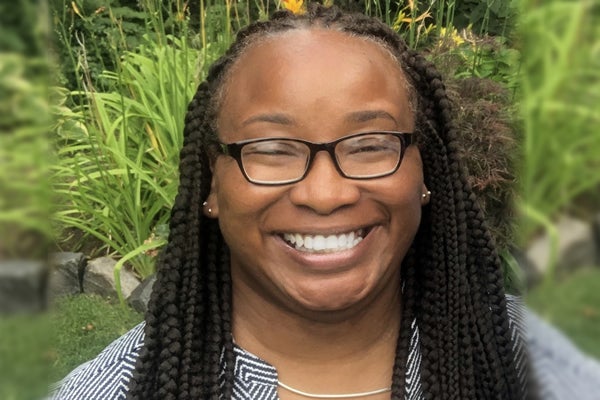 When Nina Hike was a young child living in the Altgeld Gardens public housing projects on the far South Side, she would walk across the street to the Beaubien Woods and bring back insects and plants to learn about.
While some parents would have discouraged her curiosity, her mother Gloria J. Goss and her father Theo Hike Sr. encouraged her interest in science. Her love of science led to her earning a bachelor's in biology with a minor in chemistry from the University of Illinois Chicago, a master's in secondary education from DePaul University and a return to UIC where she is currently working on her doctorate focusing on equity in science education.
For over 25 years, the mother of three has worked as a science teacher at Chicago Public Schools and recently was named one of three finalists from Illinois for this year's Presidential Award for Excellence in Math and Science Teaching, or PAEMST, the nation's highest honor for STEM teachers. The awards are administered by the National Science Foundation on behalf of The White House Office of Science and Technology Policy.
"My mom got me interested in science by fostering my natural curiosity, she always encouraged our curiosity and critical thinking," said Hike. "My father was the source for paying for all my failed science experiments, he's definitely been my motivator and cheerleader."
Hike's time at UIC began when she was a preschooler on campus as her mother took courses. Later after graduating from CPS schools she followed in her mother's footsteps and attended UIC. As an undergrad, she worked for the African American Cultural Center, earned the UIC's leadership award, was an Alliance for Minority Participation scholar, and was inducted into the Beta, Beta, Beta National Biological Honor Society. She credits her professors, in particular, Donald Wink from the Chemistry department for serving as a mentor.
"Dr. Wink is probably the most instrumental person there for me being a teacher and affirming my science identity," said Hike.
At UIC she acted as a chemistry peer mentor and after graduating decided to pursue a teaching career. During the years she has taught at Orr, Marie Curie, and currently is at Westinghouse High School. As she focused on her teaching, she organized and ran science fairs for students and other science projects.
Modified on August 09, 2021