Chancellor's Committee on the Status of Latinos Recognition Awards Honor Latinx Contributions to Campus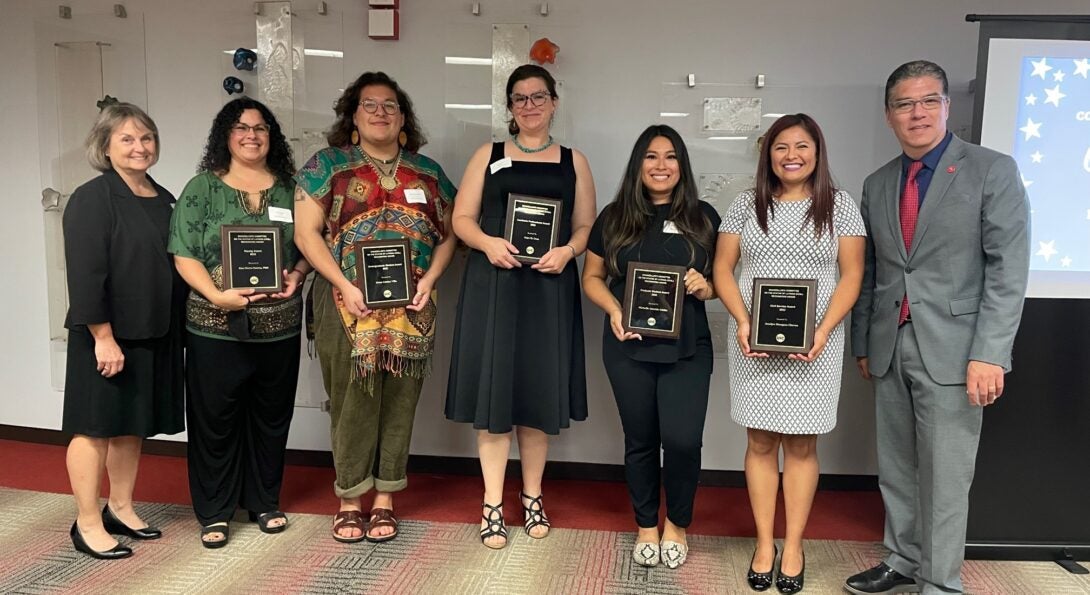 The Chancellor's Committee on the Status of Latinos (CCSL) held an award ceremony for the 2022 winners in September. Coinciding with Hispanic Heritage Month, which is celebrated from mid September through mid October, five awardees from across campus were honored with a CCSL Recognition Award.
The 2022 awardees were Jocelyn Munguía Chávez (civil service), Anya H. Cruz (academic professional), Liza María Suárez, PhD (faculty), Michelle Annette Jaldin (graduate student) and Omar Limias Villa (undergraduate student).
The CCSL Recognition Awards are presented annually to undergraduate students, graduate students, faculty members, academic professional staff and civil service staff to acknowledge service to the Latinx community. Nominees must identify as Latina/o/x and as members of the UIC community, be actively involved with Latinx issues and/or service at UIC and be role models or mentors to members of the Latinx community.
Initiated in 2018 as a retention strategy for Latinx community members, the Recognition Awards seek to highlight the vibrant UIC Latinx community who may be overlooked.
"We wanted Latinx community members who focus on and serve the Latinx population here at our Hispanic-Serving Institution (HSI) to be seen," said Viviana Kabbabe-Thompson, assistant dean of student affairs in the College of Applied Health Sciences and chair of the sub-committee which reviews award candidates.
Over the past four years, the applicant pool has greatly expanded and the task of choosing awardees has becoming increasingly more competitive. The sub-committee consists entirely of faculty and staff volunteers and stands independent of members' job duties.
One of the most challenging committee tasks is coordinating across professional and academic fields.
"We do it because we believe in the mission to serve the people within UIC," Kabbabe-Thompson stated.
Chancellor Javier Reyes and Provost Karen Colley attended this year's ceremony and several winners brought family members as well. For Kabbabe-Thompson, this speaks to Latinx culture and family being the foundation for community achievements and the significance of institutional support in bolstering these accomplishments.
The awards work to showcase a more holistic idea of success, which is a message that was highlighted by the program's icebreaker. Created by Theresa Christenson, director of graduate student professional & career development at the Graduate College and former CCSL board member, she reminded awardees to "not overlook the small successes. It's the compounding of small wins that lead to the big wins."
The next round of CCSL Recognition Awards will come out in January 2023.
For more information on the awards, please visit: https://ccsl.uic.edu/recognition-awards/
Modified on October 01, 2022