Sep
21
2020
DCC – Disability Cultural Center Check-Ins
September 21 - 25, 2020
9:00 AM - 5:00 PM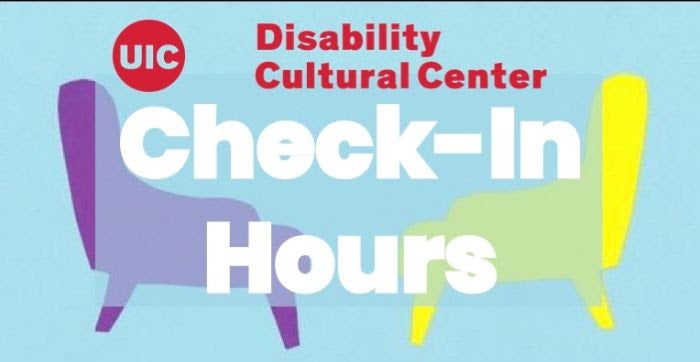 Monday through Friday, 9am until 5pm
by phone (312)-355-7050, email (dcc@uic.edu), or videochat by appointment.
DCC Check-In Hours are one-on-one meetings with DCC staff. We are here for you! We are glad to just chat if you need some human contact, offer advice, or direct you to resources. All are welcome- students, faculty, staff, and community members.
If you contact us for an appointment, we can discuss the most accessible form of communication for our check-in. Whichever mode you choose, know that we are here for you, with availability at most times during our regular hours.
Image description: On a light blue back ground, two chairs, one purple, the other yellow, face each other. On top is the DCC logo and white text that reads: "Check-In Hours."
Date updated
Aug 20, 2020